Saint Anselm College
Event Types Welcomed
Adult Social Events

Corporate Social Events

Expo/Competitions

Family Reunions

Professional Meeting / Training / Conference / Retreats

Wedding Ceremonies

Wedding Receptions

Youth Parties

Youth Retreat/Camps
About
Located on four-hundred acres on a hilltop campus overlooking Manchester, New Hampshire, Saint Anselm College provides a unique location for meetings and events. With its close proximity to Boston and to New Hampshire's local attractions, beaches and White Mountains, Saint Anselm College offers the perfect setting for meetings. The venue's multiple meeting spaces featuring state-of-the-art technology and serene locales for break-out groups and relaxation.
The Office of Conference and Event Services ensures that each event held on Saint Anselm College's campus is successful by acting as a liaison between planners and on-campus service providers, helping select the perfect event space for a wide variety of events. Catering service is provided by experienced culinary professionals that deliver high quality food and service for guests regardless of the size of your party. See below to learn why Saint Anselm College conference centers and event venues offer the best accommodations in New Hampshire. The College's list of amenities makes it clear why they are the premier event venue in all of New Hampshire.
Meeting & Event Spaces
Max Capacity: 1300 guests
Largest Classroom Style: 167
Largest Theatre Style: 575
Academic Year Largest Group: yes
Koonz Theatre, Dana Center
The Dana Center provides an optimal location for meetings, easily accommodating general sessions. The stage of the 575-seat Koonz Theatre holds cultural and political events of all kinds—from acrobatic performances to lectures on Michelangelo to nationally televised presidential debates.
Thomas F. Sullivan Arena
Home to the Saint Anselm men's and women's hockey teams, Sullivan Arena is ideal for ice hockey camps and other skating-related activities. The facility was built in 2003 and contains training and locker rooms, laundry facilities, and space for banquets and other functions. The arena is available in the spring and late-summer as a large event space and was the setting for nationally televised presidential primary debates during the 2008 and 2012 election cycles.
Classrooms
Classrooms are located in Joseph Hall, Poisson Hall, Goulet Science Center, and Gadbois Hall. When classes are not in session, theses buildings offer space for workshops, and lectures, and meetings. Recently renovated, Joseph Hall features modern seminar rooms with the latest technology, including Smart boards.
New Hampshire Institute of Politics
Dedicated in 2001, this 20,000-square-foot facility includes a state-of-the-art auditorium, a fully equipped TV studio, classrooms, seminar rooms, and a computer lab. During presidential primary years, the NHIOP is at the heart of the local and national political activity.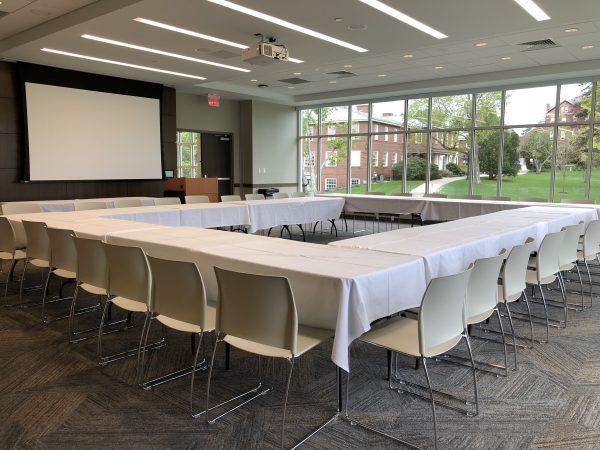 Roger and Francine Jean Student Center Complex
Our brand new facility which openend in May of 2018 provides an event space with a spectacular view of campus ideal for meetings, conferences, and banquets. The event space can be divided to accomodate multiple meetings at the same time. Also included in our Student Center Complex is an Auditorium that is equipped with state of art audio/visual and has stadium seating for 250 guests.
Food & Beverage Options
Davison Hall
Our campus dining hall is available for meal service during the summer conference season. Our food is homemade and freshly prepared by our chefs and we offer vegetarian and gluten free options.
Catering options
Full Service Catering
As a part of Saint Anselm College's Benedictine tradition of hospitality, we offer full-service catering, providing the highest level of food and service to ensure the success of your event. We will assist you in planning every detail related to your food and beverage needs. We can customize our offerings to suit your needs and will gladly work with you to select the ideal menu for your guests. Whether your function is a continental breakfast for 12 or a plated dinner for 300, our experienced professionals will strive to exceed your expectations.
Accommodations
Total Number of Overnight Guests: 1300
Wi-Fi Guest Room Cost : FREE-Included
Overnight Room Attributes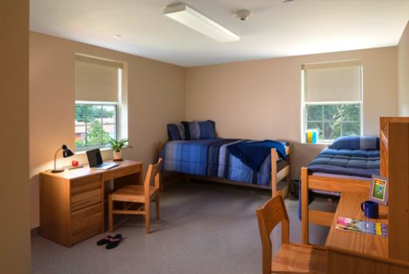 Residence Halls
All residence halls are within walking distance to classrooms, the library, and dining and athletic facilities. Comfortable single rooms, doubles, apartments, and townhouses are available in atrractively landscaped settings. Common areas and kitchen facilities add to the convenience.
Featured Amenities
Accessible Facilities

Air Conditioning

Bus

Fitness Center

In-House Catering

Linens

Near Public Transit

Paid Parking

Running Trails

Sports Facilities

Taxi

Theater Seating

WiFi
Venue Location + Transportation
Address
100 Saint Anselm Drive #1800,
Manchester, New Hampshire 03102-1310
Nearby Airport
Manchester-Boston Regional (MHT) - 15 minutes
Nearby International Airport
Logan International Airport (BOS) - 60 minutes
Nearby Cities
Manchester, NH – 3 miles
Concord, NH – 20 miles
Portsmouth, NH – 55 miles
Boston, MA – 57 miles
Worcester, MA – 70 miles
Portland, ME – 100 miles
Providence, RI – 100 miles
Things to Know
Catering
Must Use In-house Catering: Yes

External Catering Allowed: No

Can Bring in Own Food: no
Technology
Internet access in meeting rooms and classrooms. Housing accommodations include access to cable and internet.
Guest Wi-Fi: Free

Onsite Tech Support: Yes

Wi-Fi in meeting space: Yes

Equipment Available On-Site:

Projector Screen
Laptops
Microphones
Sound System
Venue Policies
Alcohol Consumption: Yes

Smoking Permitted: no

ADA Accessible: Yes

Family Friendly: Yes
Testimonals
"Our evening was a big success! We held our 26th Annnual Historic Preservation Awards at the lovely campus of St. Anselm College. The Conference & Event Services staff was great to work with and the Catering staff was extremely accomodating. Our guests were truly wowed by the peaceful atmosphere, delicious food and elegant service provided in Davison Hall. The Dana Center was the ideal setting for the presentation of awards and the large screen, in house sound and lighting systems and comfortable seating made for a perfect venue."

~Gail York, Event Co-Chair and Trustee
Manchester Historic Association
Saint Anselm College is my first choice for events! I have had the distinct pleasure of working with Saint Anselm College and Rob Foreman, Director of Conference & Event Services on two multi day events in 2018. I look forward to more scheduled events in 2019 and 2020! Rob's professionalism, attention to detail and customer service is outstanding. Rob met with me on a few occasions to accomodate specific IT requests and without hesitation. The IT team was also super helpful on the day of the event helping one of our speakers with a Zoom connectivity issue. We held our events at the beautiful Roger and Francine Jean Student Center and could not have been happier. The Catering Director worked with me to create a menu that not only was delicious but also met our client's dietary needs and kept me within budget. The entire Catering staff was very professional and attentive. Our group was particularly pleased with the yummy homemade brownies that were served!
The venue is warm and inviting while also remaining competitvely priced. I encountered numerous staff during our events as well as many students. The kindess and consideration that were extended to our group uniquely align with the Catholic traditions that are being taught at Saint Anselm and certainly added to our grups overall stellar experiences.
Many thanks Rob and Saint Anselm!

~ Melissa Kelly
Workforce Development Coordinator
Network4Health /Catholic Medical Center
Services
Audio Visual Services
Our on-site AV techical support team will make sure your meeting is up and running.
Event Planning
Our team of event professionals will work with you on each aspect of your program, ensuring that your meeting or event is conducted with professionalism and attention to detail.
Complimentary Parking
On-campus parking for event attendees is always free of charge.
Technology
Presentation technology
All of our classrooms and most of our meeting spaces are equipped with projectors, screens, and a computer for the presenter. Use of the existing equipment in each space is included in your room(s) rental fees.
Guest Wifi
Complimentary guest wifi is available to all guests!
We Connect Unique People With Unique Spaces
At Unique Venues we believe that at the core of being unique is inherent inclusivity. We celebrate the notion that people gather for different reasons and that audiences are filled with humans of every race, gender expression, spiritual belief, sexual orientation, age, political leaning, and more.
All planners who inform us of a booking at one of our venues will be eligible for our monthly drawing for a $25 Amazon Gift Card. Be sure to let us know that you booked one of our outstanding unique sites! Just shoot us an email: sara@uniquevenues.com.